Previous: Paste Up: Selecting and Editing Objects Next: Editing Control Points

Object Description
You can assign a description to an object using the Edit->Object Description menu item. This will display the dialog box shown in Figure 8.3. Type the description into the text field, and click on Okay or press Enter.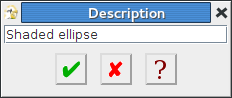 Figure 8.3: Setting an Object's Description
The description will not appear in the image, but it can be used to locate and select objects on the canvas using the Navigate->Find By Description or Navigate->Add By Description menu items. The description may also be used as a comment when exporting images, depending on the file type. Note that if you assign a description to a group, you will lose the description if you later ungroup it.
---
Previous: Paste Up: Selecting and Editing Objects Next: Editing Control Points