Previous: The Rulers Up: The Basics Next: The File Menu

The Status Bar

Figure 4.2: The Status Bar
The status bar (Figure 4.2) is positioned along the bottom of the main window. This has the following elements:
The current position of the pointer (or the pointer's last position before it was moved away from the canvas). You can double-click on this area to open the Go To dialog.

The storage unit. You can double-click on this to open the storage unit selector.

The file status area. If the current picture has been modified, it will display the word "Modified", otherwise it will be blank.

The grid lock indicator. This shows if the grid lock is on or off . You can double-click on this area to toggle the grid lock setting.

The current magnification. You can adjust this value by clicking on the plus or minus icons to move up or down the pre-defined list of zoom settings. Alternatively, in the area between them where the magnification value is displayed, you can menu-click to popup a menu or double-click to open the magnification settings dialog.

A help button that you can click on to open the manual at the section related to the current operation. This button is only present when the current operation has a section in the manual.

A brief message about the currently selected tool or operation. If the message is too long to fit in the provided area, you can double-click on it to open a dialog window with the full message (Figure 4.3).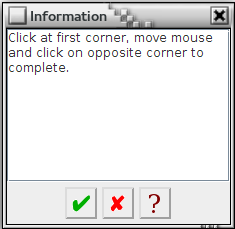 Figure 4.3: The Information Dialog
You can show or hide the status bar, or elements within the bar, using the Configure User Interface dialog. You can also use this dialog to change the font used in the status bar.
---
Previous: The Rulers Up: The Basics Next: The File Menu