Previous: Message Window Up: The File Menu Next: Quit

Close
You can close the current child window, either by clicking on the child window's close icon or by selecting File->Close. If there is any unsaved data, FlowframTk will ask for confirmation before discarding the window (see Figure 5.4). In this dialog box you can: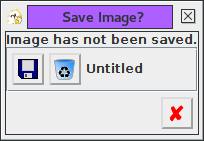 Figure 5.4: Confirm Discard Dialog (1 Modified Image).
An image will only be marked as unmodified if it has been saved as a JDR or AJR file. If you have exported your image to another file type, I recommend that you also save it as a JDR file as well, in case you want to edit it later.
Note that you must finish or discard any path that is under construction before you can close an image.
---
Previous: Message Window Up: The File Menu Next: Quit