Up: Export Next: Export to a Class or Package

Export to PNG
The export to PNG function is used when the file filter is set to PNG File (*.png) in the export dialog box. All LaTeX related settings are ignored by this function.
After specifying the file name (and confirming overwrite, if necessary) the Export to PNG dialog box is shown (Figure 5.2) where you can specify if the image should have a transparent background and if the image should be cropped.
If the Transparent Background box is checked, all colours will be converted to ARGB (alpha, red, green, blue) and the background will be transparent. If this box isn't checked, all colours are converted to RGB and the background is set to white.
If the Crop box is checked, the exported file will be cropped to the image's bounding box otherwise the image will be the same size as the canvas.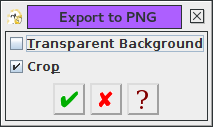 Figure 5.2: Export to PNG Settings
---
Up: Export Next: Export to a Class or Package